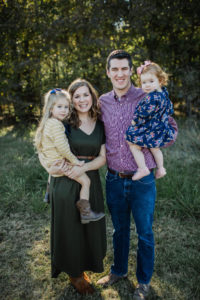 I was blessed to grow up in a family where Christ was the center of all that we did. I was equally blessed to be raised in a church that was passionate about teaching the Gospel. It wasn't until my adolescence where I first experienced the saving grace of Jesus Christ. The seed of salvation began to bear fruit in my life when my father gave up his 25-year career as a judge to surrender to the ministry. He would move my family from North Louisiana to the northernmost part of Montana to lead a church of less than 10 people. It was through that radical & humble sacrifice that I witnessed what it meant to truly follow Jesus. Although I had confessed Christ as Lord & Savior in my adolescents, I followed the typical "pastors kid" path and fought the will of the Lord throughout my teenage years. But the strength of my will could not win against the sovereignty of my Heavenly Father. 2 Corinthians 5:14, proved true in my life in that the Love of Christ compelled me to follow him. When I was 17, I surrendered my will to the Lords and was called to the Gospel ministry.
I attended Louisiana College, to prepare for my calling through theological education. It was during these formative years that the Lord blessed me with many Christ-centered mentors & friends who helped me grow in my love for Jesus & His church.
Upon Graduation I continued my theological training at New Orleans Baptist Theological Seminary and began working as a youth pastor in Haughton, LA. From there the Lord brought my family to Argyle, TX where I would finish my Master of Divinity at Southwestern Baptist Theological Seminary while serving as a Young Adult & Student pastor. It was during these years where the Lord solidified my calling to pastor.
In 2015, the Lord led my family to New Hebron Baptist Church where I have been blessed to serve as the Lead Pastor since that time.
Throughout my life journey, The Lord has time & time again shown me that my joy is only found in submitting to His good & perfect will.
I am blessed beyond measure to have been married to my wife Sarah since, 2009. We are thankful to have two beautiful daughters, Charis Abigail & Ruth Kathryn.