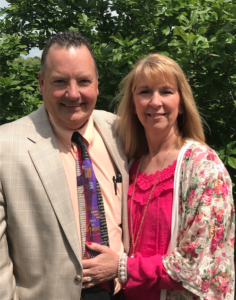 Blessed beyond measure. These three little words could easily sum up my life's journey. I'm blessed in the good times as well as the bad times! I was blessed to have grown up having loving parents that made sure my sister and I attended church and learned about God and His great love for us.
In my senior year of high school I met the true love of my life. I knew right away she was the one God picked out for me. At that point, not only did my life's path change through attending church with her, my eternal destination changed as well. I accepted the Lord shortly after going to church with her. As you are reading this now I want you to know this more than anything else you read about me: Accepting Jesus Christ as Lord and Savior is the greatest blessings you can receive.We were married a year later and blessed again with two children, Mandi, Patrick and (son) in law JE and two wonderful grandchildren, Rowdy and Langston Kate.
After a short while we moved our letter to First Baptist Church Blanchard where I served as a deacon and in many different areas of ministries in the church. I also became the worship leader at Cross Brand Cowboy Church which is a ministry of FBC Blanchard. It was there I felt the call of God in my life to go into the ministry. Not really knowing what He wanted us to do,
Terri and I committed to serve wherever He leads and shortly, very shortly, God showed us where that would be. We are so very blessed to be serving with our brothers and sisters at New Hebron Baptist Church.
I am truly blessed beyond measure!!